About The Author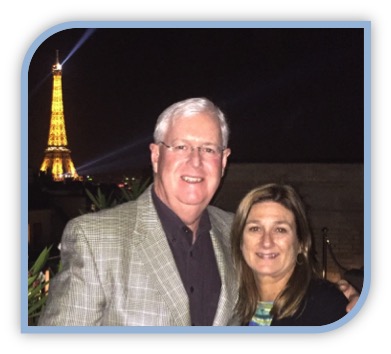 My wife and I have been in many different types of supper clubs for most of our adult lives. We have been in large, formal clubs and small, informal ones. Through these experiences, I have learned what works and what doesn't. As part of these clubs, I have been writing menus and recipes for years. All of the menus and recipes in this book have been "supper club tested." A great example of the benefits of using recipes I have tested in my clubs is that I once wrote a recipe calling for nine pounds of cream cheese (instead of nine ounces). A fellow supper clubber called me on it, saying, "I know you work for Kraft but don't you think nine pounds is a little heavy on the cream cheese?"
I am a foodie and come from a long line of foodies who love to entertain. I was brought up in an environment where food and entertaining dinner guests was a way of life. Supper clubs are a logical offshoot of my upbringing.
In my professional life, I worked for Kraft Foods for 35 years and was lucky enough to work with an amazing group of chefs and food scientists. My experience has honed an appreciation of the "art and science" of a great meal. I was VP of Marketing for the ingredients business at Kraft. We sold Cheese, Flavors and Confections to major food manufacturers on the business-to-business basis. Kraft Food Ingredients (KFI) used technology and culinary to show manufacturers how our ingredients could improve their products. This exposed me to some of the greats in the food industry. I worked with the food scientist that basically invented Kraft Macaroni and Cheese and the chef that led innovation at Nestle for over 20 years. Working with these experts has given me enormous insight into what makes food taste good and what makes it popular with consumers. I also had some pretty great meals along the way.
I also ran KFI's international businesses that had me traveling the world, enjoying all kinds of cuisines and learning a lot about food. In developing an international food business, I learned that people from different cultures like their own cuisine and flavor profiles. We used technology and innovation to adapt our products to meet local needs. Most importantly, I have gotten to know many interesting people over a good meal, which is the foundation of a supper club.
You can contact us by clicking here
What is Impromptu Friday Nights - A Guide to Supper Clubs about?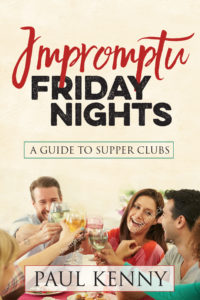 Almost everyone likes to socialize over a meal. Supper clubs that bring people together to enjoy a meal are natural enablers. The concept of supper clubs (hosting regular dinner parties) seems simple but the "how to" can be daunting. This book shows the reader how to set up supper clubs, provides options for different club formats, from large and formal to small and informal, and includes sample menus with recipes.
One of the cornerstones behind this book is the French culinary concept of "Mise En Place." Loosely translated, this means put into place. Whether you are a classically trained chef or a weekend warrior hosting a dinner party, the key to success is preparation. The book has been written with menus, recipes and preparation plans to show the reader how to do things in advance so that the host/cook can enjoy the party and have a better chance of preparing and presenting a great meal.
Each chapter outlines a different kind of supper club based on different preferences – from a classic formal club to a club where members can't cook but they know where to get great food. Chapters go over organization, club make-up, scheduling, host responsibilities, menu development, mise en place and costs. Sample menus show how to put a meal together, and prep schedules at the end of each chapter guide the reader to executing mise en place. In addition, sections listing prep time, cook time, cookware needed and wine recommendations complete the guide for a reader to be able to host an amazing meal.
You can contact us by clicking here