Scotland is truly the home of golf. In October of 2017 my son Brian and I went on a great trip to Scotland. Initially we had talked about going as a foursome with my son and law and nephew. Early on in the planning Brian said: "Dad maybe this is a trip that we take with just you and me". So that is what we did.
Every father's dream is to share a passion with his son. To spend 7 days together with just Brian and myself was a rare treat. To get to play 10 rounds of golf together with him at the home of golf was…PRICELESS.
We played 10 rounds of golf on 9 courses in 7 days walking 92 miles in the process of playing (Please note that in golf, the shortest distance between two points isn't always a straight line.) The courses we played include:
Prestwick
North Berwick
Muirfield
Kingsbarn
Old Course
Carnoustie
Lundin Links
Crail
New Course
Old Course
If you tell someone that you went to play golf in Scotland, the first thing they ask is: Did you get to play the Old Course? The Old is truly the home of golf. It is where Old Tom Morris shaped the game and the real champions of the game from Bobby Jones to Tiger Woods have proven their merit by winning the Open Championship. But, it isn't easy to get a tee time to play it.
I am lucky enough to have played it years ago. When I was planning the trip I went to great lengths to make sure that my son had the same experience. Back in the 1990's I was in London on business and went to St Andrews for the weekend. In retrospect I don't know how we got it but, when we arrived at the hotel at St Andrews we got the news that we had a 9 am tee time in the morning at the Old Course. I was like a kid at Christmas.
So as I planned the trip with my son, I tried everything I could to replicate the experience. We entered the "Ballot" a lottery for tee times where they offer random tee times to the thousands of golf pilgrims that show up on St Andrews shores to play The Old. I even tried to stay in the same hotel as I did in 1995 to bring us good luck. Unfortunately, when we got to the hotel we found out that we were not one of the lucky ones.
Michael at the Russell Hotel was great. He told us about the "Dark Times" and how to improve your chances. To be honest we went to bed that first night thinking our chances of playing the Old Course were very slim. The following morning I reconfigured all our plans and at 6 am headed to the Old Course. I found 15 guys that had been sleeping there all night to get their names on a list to fill in for cancelations. They were a sorry group to say the least. The list also makes you eligible to be given a "Dark Time" which is a tee time between 1:30 and 2:30 pm. Starting times so late that you most likely will finish that last few holes in the "Dark".
Brian and I went off and played Kingsbarn another great course outside of town. Late in the round I said to Brian lets go back to the Old Course and see if we can get a "Dark Time" not really thinking we had a chance. Sure enough we did. It was the most beautiful weather of the trip. The sun was shining and the golf gods were gracious as father and son got to play those fabulous links together.
As fate would have it, on our last day we got lucky again and played the Old Course a second time. This time, Brian who had been playing well all week had the round of his life. He birdied two holes on the back 9 with the most impressive on the iconic par 5 14th. He crushed his second shot over the dreaded "Hell Bunker" and got it up and down for a sweet birdie 4. It was an amazing close to a glorious week.
More than golf it was a special time for father and son. In planning the trip I recalled to Brian how I had played golf with my dad at Pebble Beach in California and on the day he died that is what we talked about. To which Brian replied: "Dad you aren't dying on me are you?" I certainly plan to be around for a while, but my guess is that when my time comes I will remember the magical week with my son in Scotland.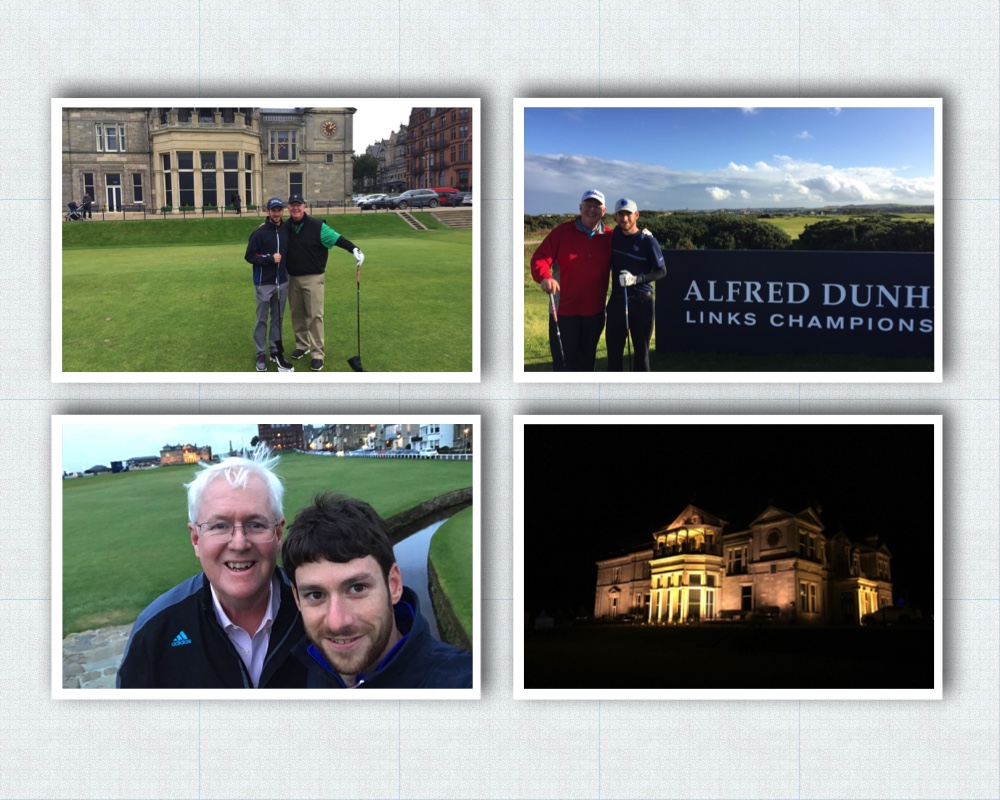 If you enjoy this blog and similar other stories/supper club lessons subscribe to get future blogs at www.impromptufridaynights.com/blog and be on the look out for my book Impromptu Friday Nights a Guide to Supper Clubs. Morgan James Publishing published the Kindle-Version on September 5, 2017 and the hard copy coming out January 30, 2018.