After the holidays the chances are you have a refrigerator full of leftovers. In my case the leftovers are usually because I overbought and overcooked . Whatever the reason, my bet is that you can come up with a really good meal with a little creative thinking and inventive substitutions. My daughter said it looked like I was playing "Chopped" with myself.
Tapas or Piattini (small plates) meals are always a lot of fun and a really good fit with odds and ends of leftovers. The original menu for the weekend consisted of: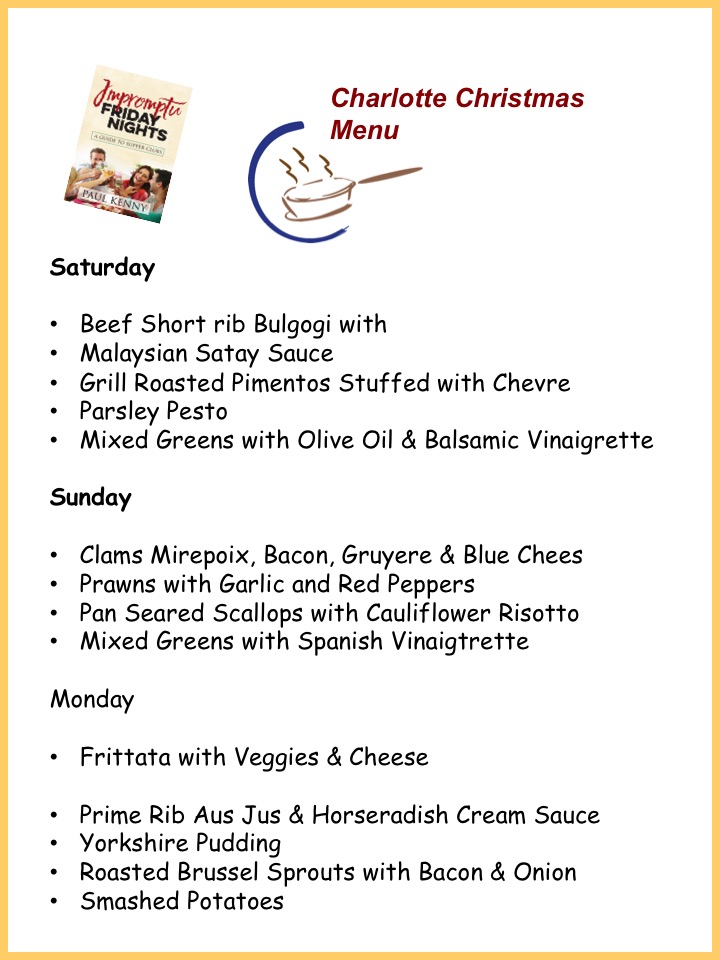 What I was left with included:
Sea Scallops – Our Italian feast of the Seven Fishes got overplayed. We ran out of steam after the shrimp and clams and were left with some great scallops
Cauliflower Risotto – The original dish was great and I had over a cup sitting in refrigerator that worked great as a base.
Zucchini – My plans to make a faux pasta with the zucchini changed and we had 3 small zucchini to work with.
Prime Rib. I always over order on the beef. The good news is that the Paula Dean Recipe produces a perfect medium rare. The result is that we had beef that could be recooked and still not be over cooked
Sauces and dips. I had made a horseradish cream sauce for the prime rib and a Caramelized Onion and Blue Cheese dip
My son in law can eat shrimp. It is rare that there are leftovers when he is around, but we had 5 jumbo shrimp needing to be used.
Sautéed Cauliflower. I had blanched cauliflower and marinated it in olive oil and sautéed garlic and served it as both a side dish and an appetizer
Other stuff. We had a few red peppers and a bunch of peeled garlic. I found a package of frozen peas in the freezer and we had a waning supply of fresh herbs
Yes this is a lot of stuff and turning it into an interesting meal was a bit of a challenge.
What I came up with included:
Pan Roasted Scallops Served with Caramelized Onion & Blue Cheese Sauce with Dill
I Pan seared the scallops in butter and then finished them in the oven. The fact that they had been in the frig for 2 days wrapped in paper towels enabled me to get a good sear/crust.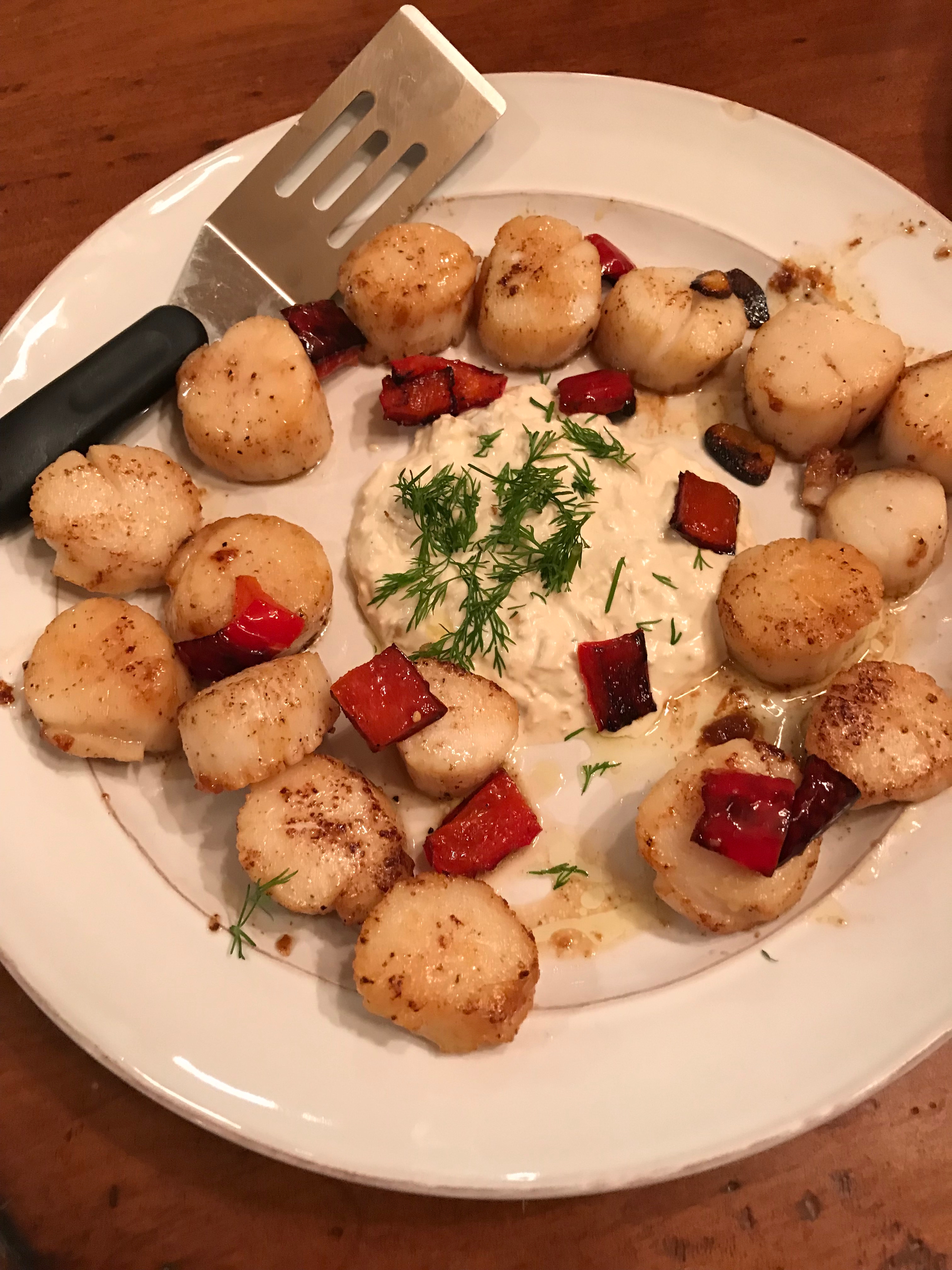 Pan Seared Beef and Sautéed Pimentos Served with a Horseradish Cream Sauce.
I sautéed the red peppers with garlic in olive oil and then quickly seared the beef in the same pan just to warm it and keep the center of the beef pink.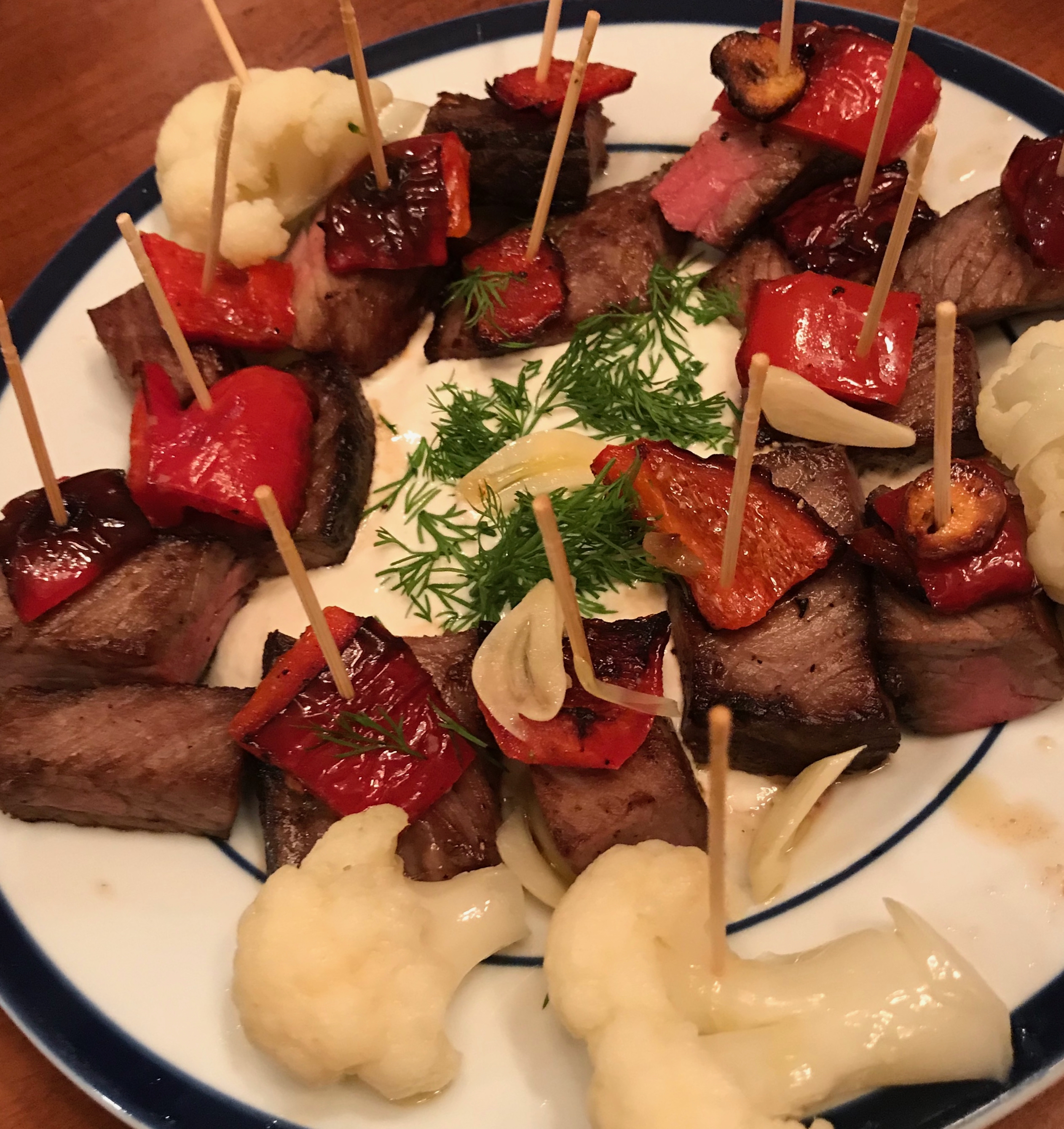 Turned Zucchini Boats Sautéed In Butter
There is something about the French. Say what you will, but they can cook. The classic preparation of turned vegetables is just cool. And, by the way you can turn something ordinary like leftover zucchini into something impressive is fun. Check out this video. https://youtu.be/DfV6HTvQ1Cc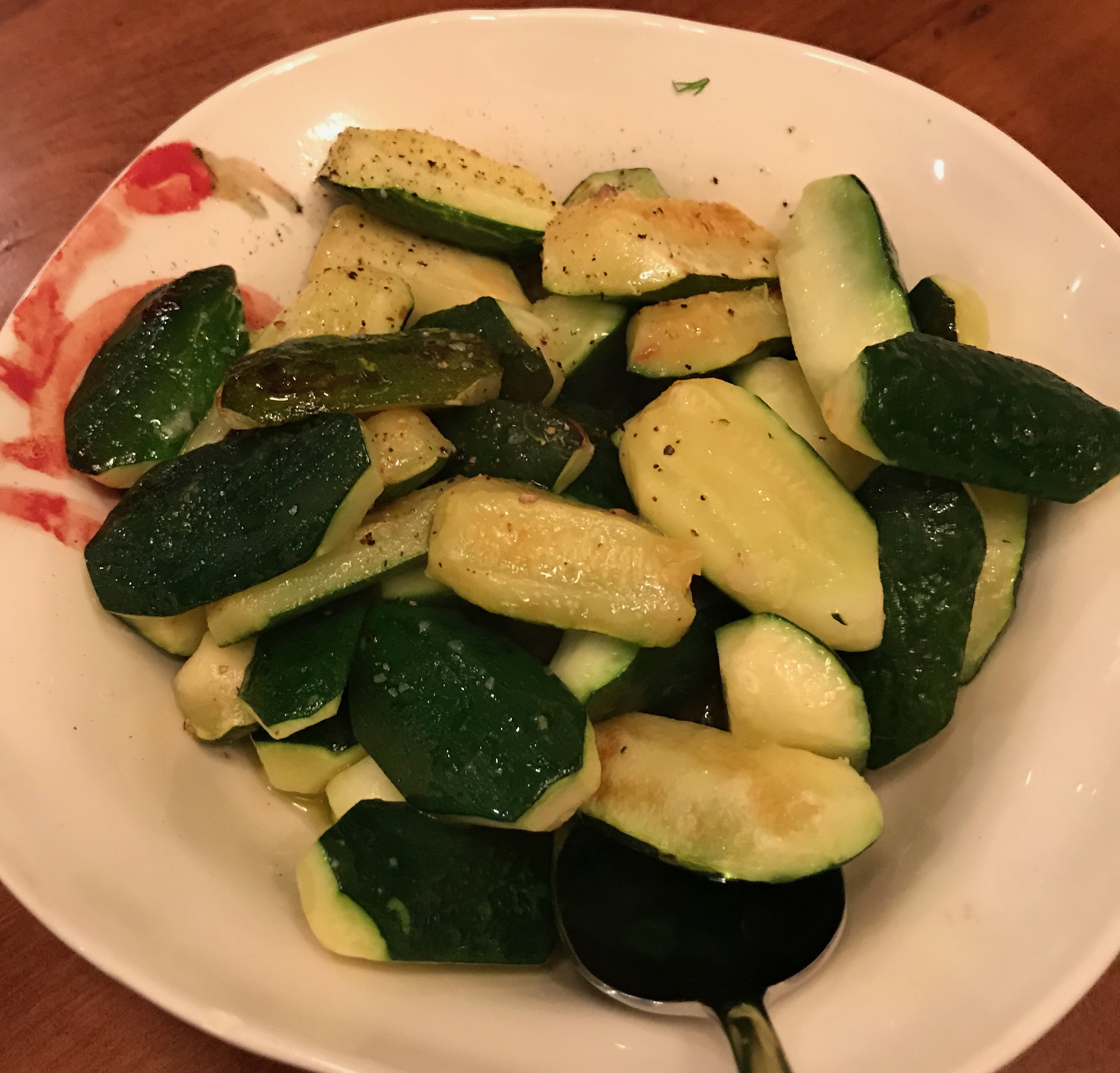 Cauliflower Risotto with Peas, Mushrooms and Sautéed Shrimp
This dish was a great "catch-all" and a big hit. The cauliflower risotto was a great base. I added more cauliflower, peas, chopped shrimp and a little milk and warmed it up in a sauce pan.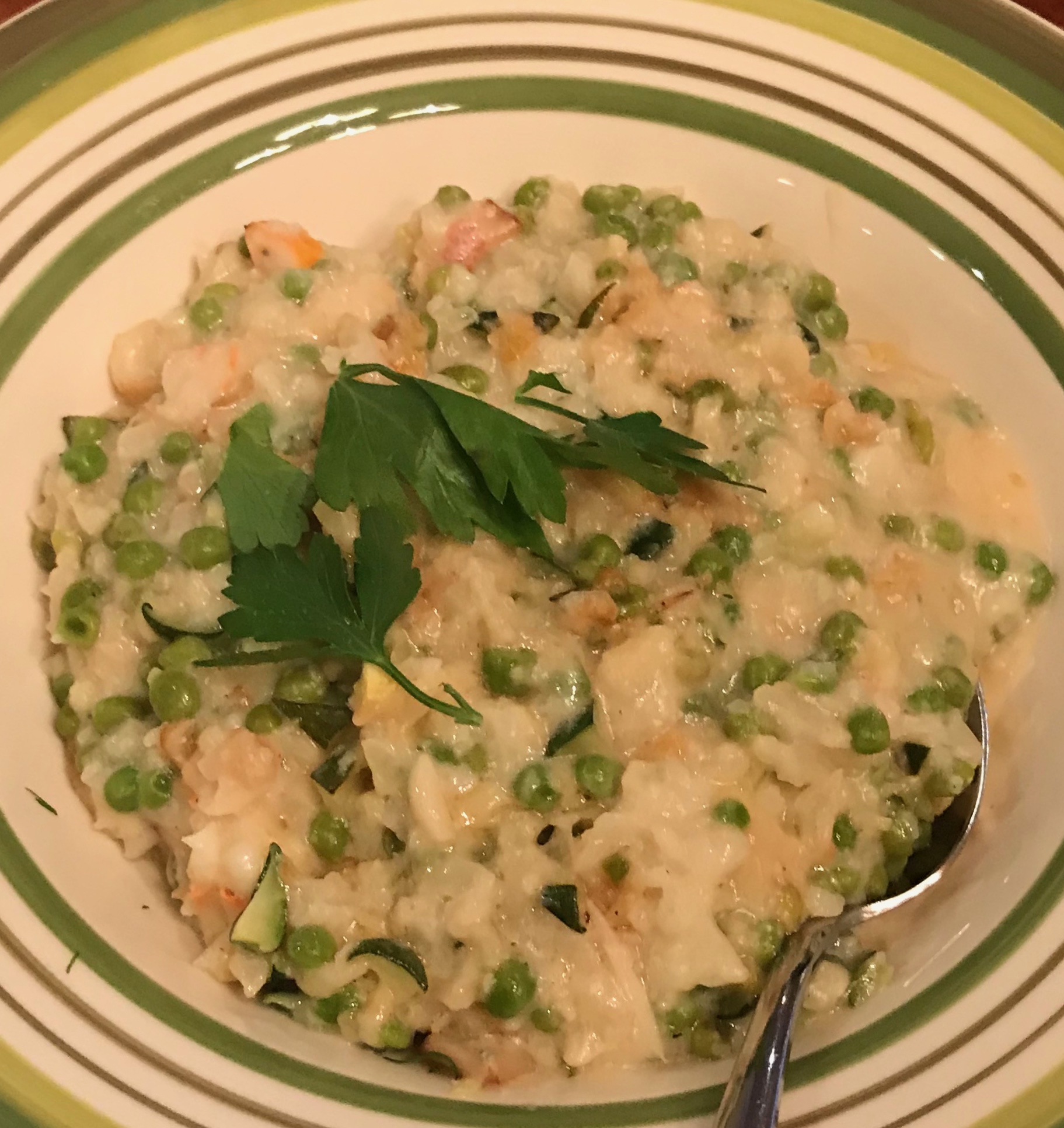 We had some really nice wine and wound up with a really good meal, full stomachs and an empty refrigerator. It really was a lot of fun.
If you enjoy this blog and similar other stories/supper club lessons subscribe to get future blogs at www.impromptufridaynights.com/blog and be on the look out for my book Impromptu Friday Nights a Guide to Supper Clubs. Morgan James Publishing published the Kindle-Version on September 5, 2017 and the hard copy coming out January 30, 2018.