There is nothing better than a simple sauce with great ingredients. Susan and I spent the day on a hillside farm in Ravello Italy with Mama Agata. It was truly a great culinary experience. One of our many takeaways was a great tomato sauce that will be the foundation for many supper club menus.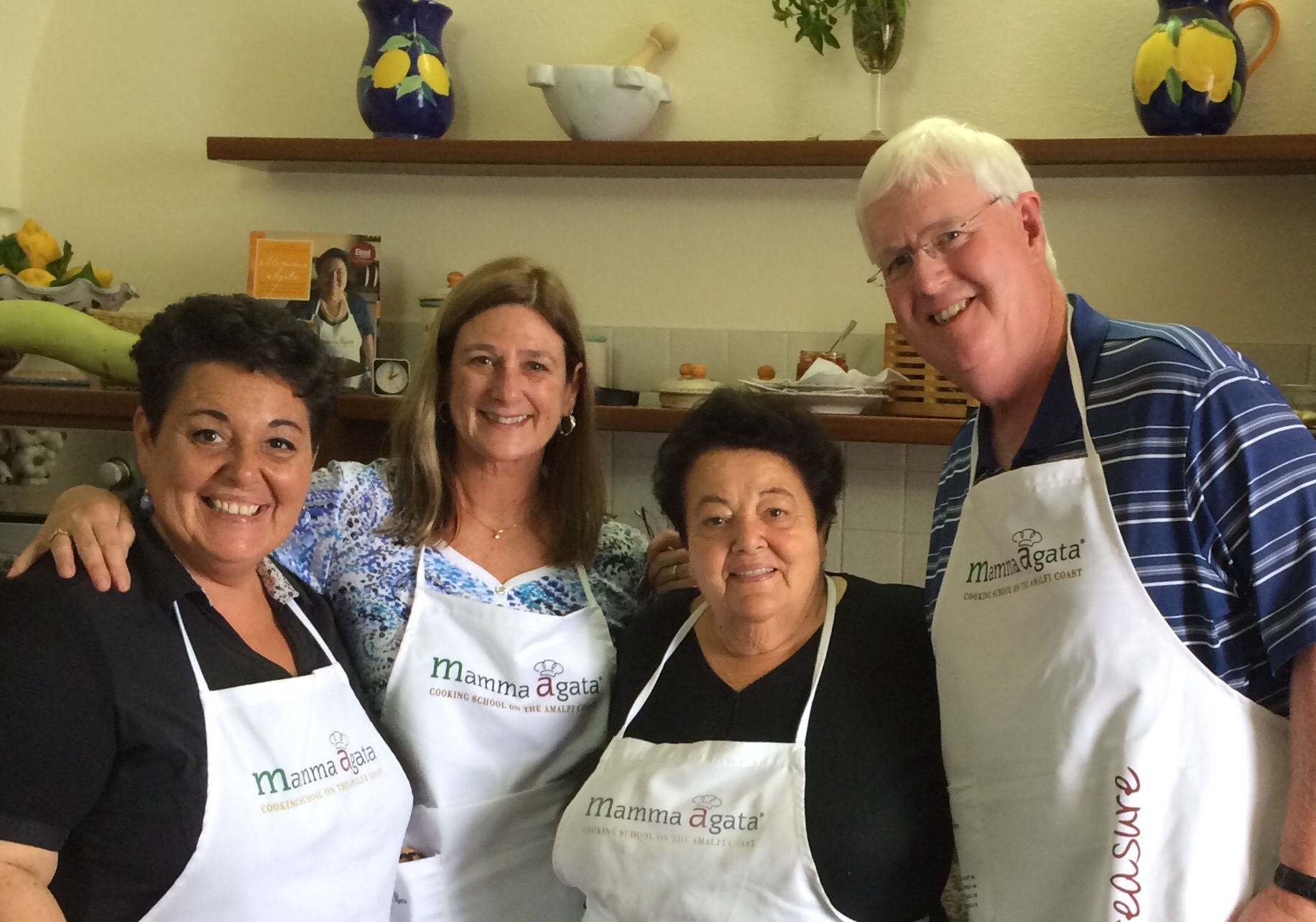 Mama Agata is the former chef at the summer villa of a wealthy American woman on Italy's Amalfi coast. She has cooked for many celebrities from Fred Astaire, Humphrey Bogart, Liz Taylor, Richard Burton, Jackie Kennedy to Woody Harrelson. Her daughter Chiara Lima now shares her Mama via what she calls cooking classes, but are more of Amalfi Coast culinary experience.
Check out the Mama Agata website:
The beauty of the Tomato sauce recipe is its simplicity and great ingredients. Mama Agata uses tomatoes she cans herself using tomatoes grown on her hillside farm. Between courses/classes you can walk around their farm and understand why everything tastes so good.
The good news is that this recipe translates using ingredients sourced locally in the United States and elsewhere. I have added the extra step of pureeing canned whole Roma tomatoes in a food processor.
This sauce is simple and versatile. It works well by itself as well as in a myriad of dishes. It doesn't call for added salt, but I like to add a pinch or two and just don't tell my wife.
We had a great day with Mama. Towards the end of the day Chiara was telling stories of some the celebrities that Mama has cooked for and Mama interjected that she loved them all Except WOODY HARRELSON. It turns out that Woody is food purist and wouldn't let his little girls eat Mama's special lemon cake. I told Mama that her instincts on Woody might not be all bad.
Woody is a good friend of my cousins that live on Maui and a great guy. One day while we were visiting my cousin Virginia on Maui she got a call from Woody's wife. We were preparing for a celebration of a friends passing. The plan was to take an armada of kayaks and surf boards out into the Pacific and spread the friend's ashes. Woody's wife called to ask if Woody could bring his fathers ashes to spread as well.
My cousin got off the phone with a funny look on her face as she told us about Woody's request. Virginia's husband Rich asked if we knew about Woody's dad. It turns out that his dad was arrested for murder while Woody was younger. He got out of prison and was later convicted of murdering a federal judge. Rich then laid a bombshell. "Woody's dad was also arrested on the grassy knoll the day that Kennedy was shot. You can Google it". Rich closed with the warning: "You might not want to mention the story to Woody tonight at the party".
Great story and an even better tomato sauce. Try it at your next supper club party.
If you enjoy this blog and similar other stories/supper club lessons subscribe to get future blogs at www.impromptufridaynights.com/blog and be on the look out for my book Impromptu Friday Nights a Guide to Supper Clubs due out from Morgan James Publishing on January 30, 2018.