A great thing about supper clubs is that they can be a venue for you to try things you have never had before. With someone else writing the menu there is a good chance you get to taste something's that are completely new.
I can remember the first time I really had truffles. While I had eaten dishes that said they had truffles in them I had never experienced real truffles until we visited Tuscany. Our first night in Montepulciano we ate at Ristorante La Grotta. As we were looking at our menus as a waiter came by with a plate of Tagliderini al Tartufo. The aroma was amazing, but also hard to describe. It certainly was not like anything we had ever smelled or eaten before.
The next day we went on a truffle hunt with an old man in his 80's and his two dogs. After a few hours our guide had found us a large handful of white truffles that we took back to the kitchens of Il Podere Casale where the chef made up a 4 course meal with each course featuring the wonderful truffles we found that day.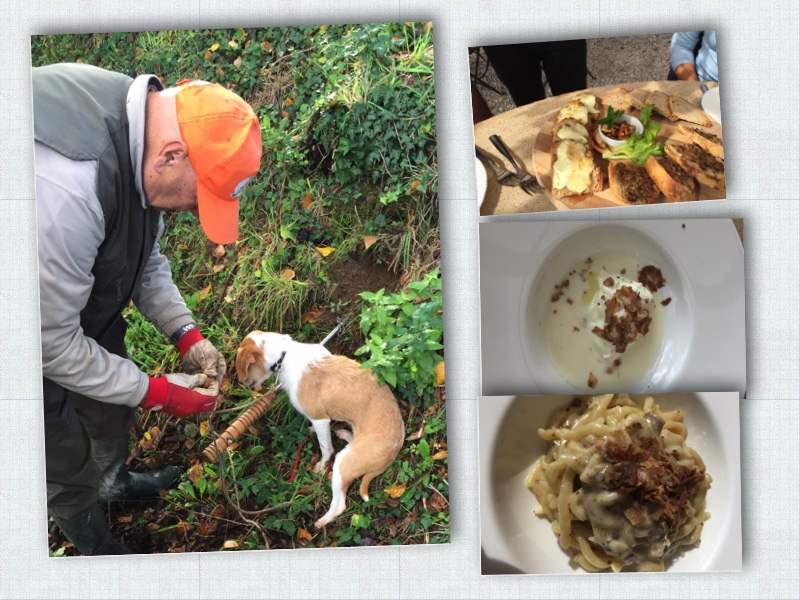 I once saw an old friend at a corporate event and in passing asked "What is new and exciting". To which he replied: "Like my wife says, it may not be new, but it is still exciting". Truffles like we had in Tuscany will always be exciting. Given the cost of truffles in the U.S. I doubt I will be writing supper club recipes for them. The great thing about supper clubs is that they are a great venue for that "first time" experience.
If you enjoy this blog and similar other stories/supper club lessons subscribe to get future blogs at www.impromptufridaynights.com/blog and be on the look out for my book Impromptu Friday Nights a Guide to Supper Clubs due out from Morgan James Publishing on January 30, 2018.