The quote: "The Americans and English are two peoples separated by a common language" has been attributed to George Bernard Shaw and Winston Churchill. Having friends from Great Britain in your supper club certainly makes for interesting conversation.
The title question was posed to a very proper American business associate of mine as she checked into the London Marriott at Grosvenor's Square years ago. The poor lady was probably exhausted with jet lag and trying to arrange a wake up call with the front desk. The look on her face and crimson color that came to it was priceless. The crusty old concierge (pictured) at the Marriott had a chuckle at her expense.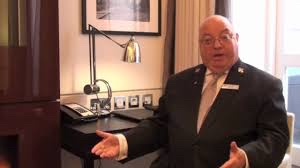 We have good friends Mike and Arlene in Dallas who had a couple from Britain move into the house next door. The first time they met Arlene was explaining to her new neighbor that Mike played golf on weekend mornings. The poor lady was explaining her routine and my friend heard her say "My husband and I get up, have sex and then have a large breakfast every Sunday".
The next time the two couples got together Arlene asked the proper English lady to tell her husband Mike about her weekend routine. Mike heard: "My husband and I get up, have sex and then have a large breakfast every Sunday". What she said in English was "My husband and I get up, half six and then have a large breakfast every Sunday". When the English lady realized what was heard she was mortally embarrassed. Her very British husband said: "For the record what you think she said never happens".
The one thing that the Americans and English have in common is a love for Indian food. Whenever I go to London I make sure to have a meal or two at an Indian restaurant. It has been said that chicken tikka masala is the national dish of England. We have Indian friends that lived in London for years and he always preferred to get his Indian food from "Take away" (English for takeout) because he didn't want his house smelling like curry for weeks.
For a great supper club meal try Indian takeaway. Whether you live in London or Memphis you are in for a fun evening just be careful that you don't get knocked up too early the next morning.
If you enjoy this blog and similar other stories/supper club lessons subscribe to get future blogs at www.impromptufridaynights.com/blog and be on the look out for my book Impromptu Friday Nights a Guide to Supper Clubs. Morgan James Publishing published the Kindle-Version on September 5, 2017 and the hard copy coming out January 30, 2018.